The Challenge – Andrew Heard, Hardwood Log Supplier
We were approached by a major supplier of hardwood logs in the South East to improve their workflow and streamline their business processes.
We quickly identified that there was a great deal of manual effort required to service each customer as an order was placed. Delivery of products was being made from hand written notes. A certain of double effort was also required to produce invoices.
In addition to this, every autumn there was a need to contact each customer and inform them of the new prices for the coming winter. Several documents in label format were require to handle this making the system time consuming and could be prone to error.
Managing a delivery diary was key to the task to ensure that drivers were not double booked and also to quickly manage adjustments to an order.
The Solution – WoodStock
Research of the market found no ideal solution which would work for the customers' specific requirements. Our solution was to replace the card index system with a custom solution. This would make the sales process much easier to manage. New markers were introduced against each sales order so that outstanding payments could be swiftly identified. Late payers could also be noted in the system along with custom delivery notes for the delivery driver's attention.
The key benefits to Andrew Heard are that the customer details and core business processes are much easier to manage. Time consuming mailshot production is far easier and faster with no scope for customers to be missed with a standard mailshot, one of the key steps to retaining customers each year. Invoices are much more professional in appearance.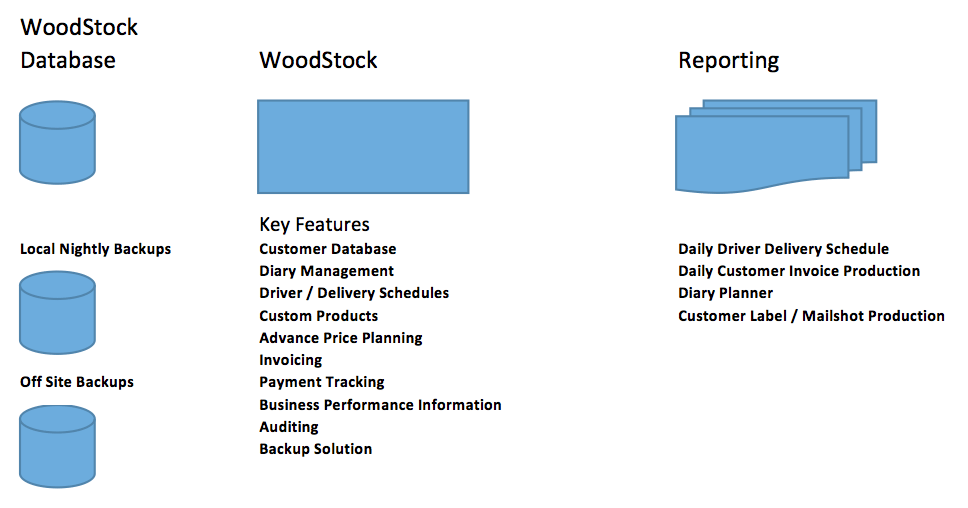 his new approach would…
Move customer details into a central database
Provide a fast way to produce labels for mailshots
Produce a custom diary solution (as shown here) allowing deliveries to be managed more easily
Incorporate a bespoke ordering process allowing for specific wood type and size of log to be specified along with pricing information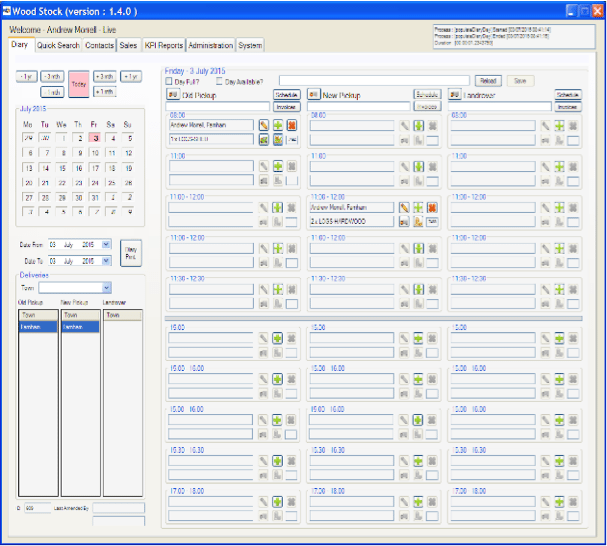 We also wanted to improve the customers' impression of the service.
By producing more professional looking invoices it encourages faster payments which helps improve cash flow and avoid the need to chase people for payments.
Faster payments can be rewarded with future discounts.
Each invoice is VAT controlled according to the customer type allowing for domestic and trade suppliers to be accommodated easily.
The company has very strong customer service and endeavours to meet all customers' needs. The new invoice helps to reinforce the company image and brand and retain a loyal following.